WYCE Presents: Imarhan + Samuel Nalangira
WYCE Presents: Imarhan + Samuel Nalangira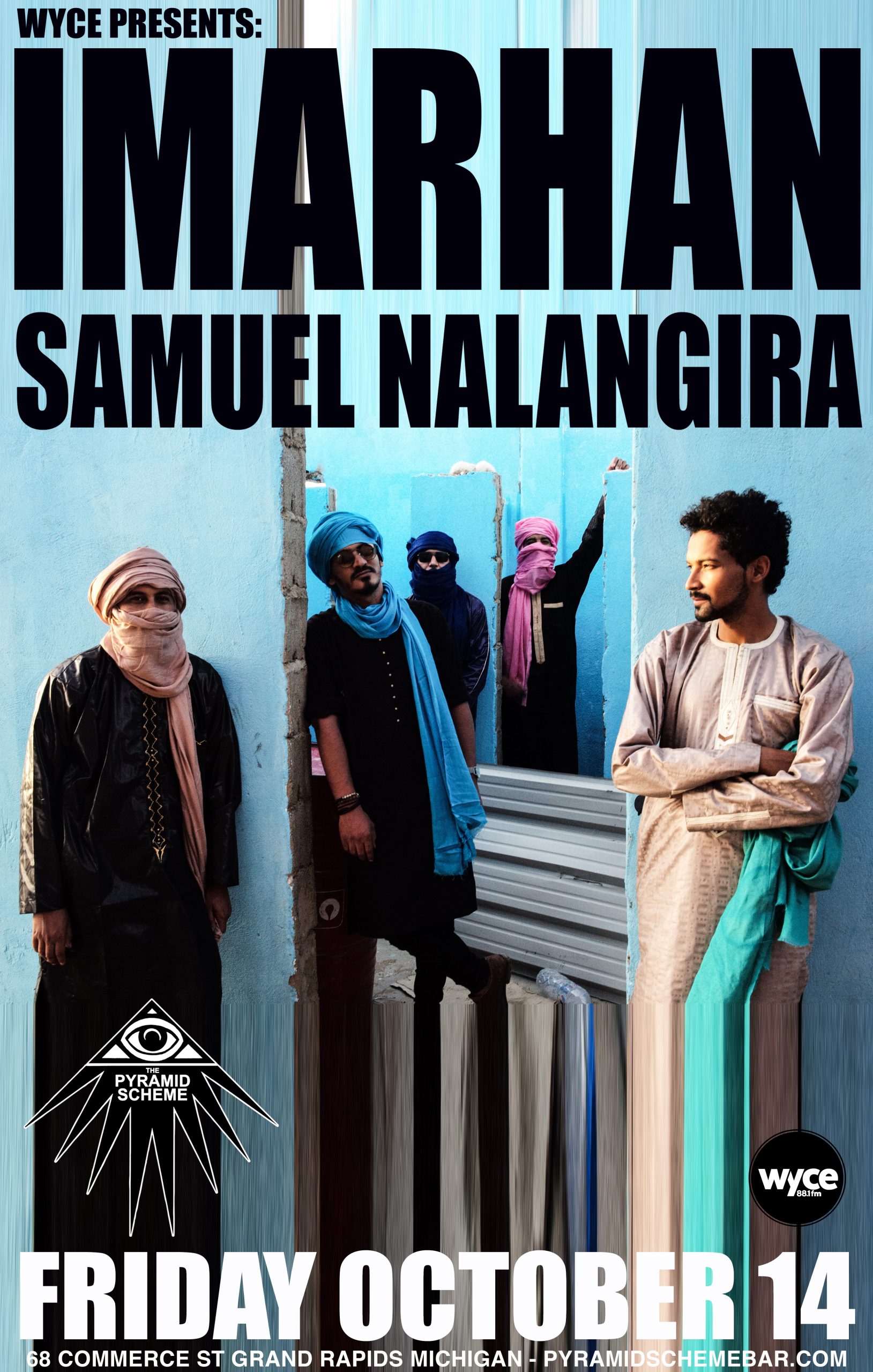 Details
Below you can find the event details to WYCE Presents: Imarhan + Samuel Nalangira. Also check out our FAQ page.
| | |
| --- | --- |
| Date | Friday, October 14 |
| Doors @ | 7:00 pm |
Description
Tuareg quintet Imarhan announce their third studio album, Aboogi, out January 28th, 2022 on City Slang. The diversity, beauty, and struggles of life in Imarhan's home city of Tamanrasset in Southern Algeria are reflected in the songs on Aboogi, the first album the band recorded on their native soil in a studio they built themselves. It features Sudanese singer Sulafa Elyas and Super Furry Animals' Gruff Rhys, plus Tinariwen's Abdallah Ag Alhousseyni and the poet Mohamed Ag Itlale (also known as Japonais) from the Tamanrasset artistic community. Following the exhilarating Temet (2018, City Slang), this new album is as serene and open as the desert it emerged from.
Imarhan's  Aboogi Studio, named for the structures their nomadic forebears built when establishing settlements, is the first professional recording studio in their city, meant to serve the Saharan region's community of musicians, many who've never had access to high-end recording gear before. It seemed only natural to also call the resulting collection of songs Aboogi, a nod to the new collective space they had established, as well as the resilience of their culture and people. "Aboogi reflects the colors of Tamanrasset, what we experience in everyday life," says bandleader Iyad Moussa Ben Abderahmane, aka Sadam. "We give space to the wind and the natural energies, to the sun and the sand. We want to express their colors through music." There is incredible warmth embedded in these steady, lilting rhythms and patiently strummed acoustic guitars, derived not just from the natural environment but from the community that surrounds them.
Imarhan's musical world has always been expansive, based in the traditional sounds of the Tuareg people but fiercely individualistic and embracing of the many styles they encounter. On Aboogi they emerge as a truly global group, united with their collaborators in a spirit of resistance and social change. This connection is sensed in today's "Achinkad" video, which shows the band playing music around a fire and dancers shuffling throughout a desert.
Want to attend?
The Pyramid Scheme
68 Commerce SW




Grand Rapids

,

MI

49503

United States