Fair and Equal Michigan Initiative!
Fair and Equal Michigan Initiative!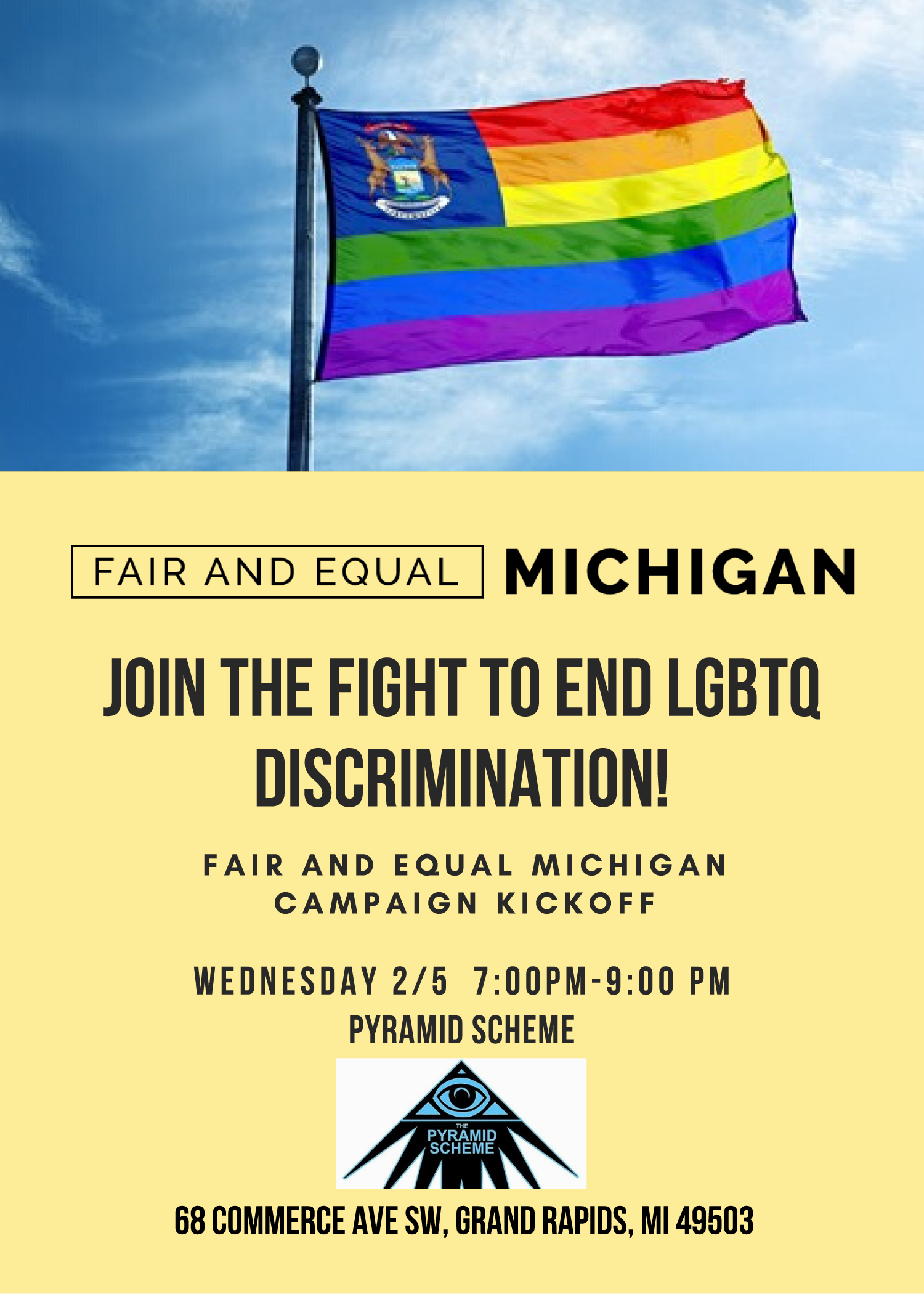 Details
Below you can find the event details to Fair and Equal Michigan Initiative!. Also check out our FAQ page.
| | |
| --- | --- |
| Date | Wednesday, February 5 |
| Doors @ | 7:00 pm |
| Costs | Free |
| Ages | Tags: |
Description
JOIN THE FIGHT TO END LGBTQ DISCRIMINATION!
It's past time to amend the civil rights law to include sexual orientation, gender identity, and gender expression. Every Michigander should have an equal chance to succeed. No one should fear losing their job or being denied services or housing because of who they are or who they love. We have the power to end this discrimination, but it will take all of us!
Fair and Equal Michigan is launching a statewide initiative to give the voters of Michigan the opportunity to strengthen the state's civil rights protection during this November's election. For this initiative to be successful, we need to gather over 500,000 signatures before May 26. This HUGE undertaking will require 10,000+ volunteers statewide to help gather signatures and spread the word about the fight for LGBTQ civil rights.
Join us February 5 from 7-9 at The Pyramid Scheme in Grand Rapids Michigan to become part of the growing coalition of grassroots citizens, LGBTQ groups, business and philanthropic sectors, and both sides of the political aisle to finally prohibit discrimination against LGBTQ people. You will hear from West Michigan LGBTQ leader and activist Tommy Allen about the importance of this initiative, learn about volunteer opportunities and how you can get involved, receive volunteer training and petition materials, and have an opportunity to connect with other volunteers in your area.
Not from West Michigan but want to join the fight? Follow this link to our volunteer registration to receive updates about events and trainings near you: https://secure.everyaction.com/IouJeXXEgUG0YjBUTbsoNQ2